Visit sentry-mvp.jmilabs.com to view our public data set.
Antimicrobial Surveillance
Your antimicrobial drug development pathway has progressed far enough that you are considering engaging a qualified laboratory to provide the antimicrobial surveillance resistance monitoring studies needed in the later phases of drug development. JMI Laboratories has over two decades of extensive experience of supporting surveillance studies. The data generated at JMI Laboratories can be used as part of a regulatory agency submission in support of a new drug application or to satisfy post-marketing commitments.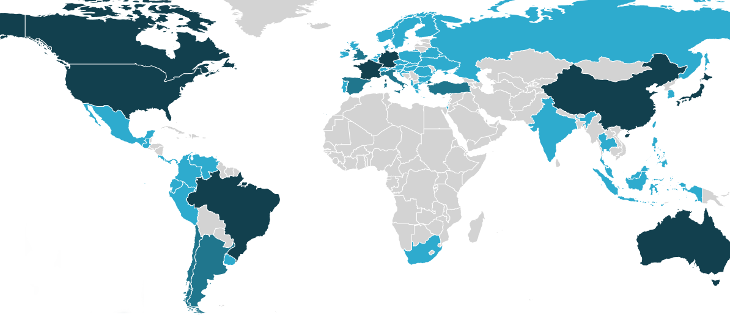 How is it done?
Our microbiologists use clinical bacterial and fungal clinical isolates that have been forwarded from hospitals worldwide to test marketed as well as investigational agents. Results are used to monitor changes in resistance patterns and the effectiveness of the tested drugs to these organisms over time. Surveillance studies usually span 12-15 months to complete the recruitment, collection, testing and reporting phases for the tens of thousands of isolates included in each program year.
What is the end goal?
New Drug Applications
Regulatory agencies will require significant in vitro MIC testing results of the investigational drug tested against recent clinical isolates, collected within the past two to three years, to be included in the new drug application for approval consideration. Surveillance studies can be an efficient and cost effective way to generate the data needed.
Regulatory Post Monitoring of Approved Drugs
The potential development of resistance of pathogens to a recently approved drug over time is a safety concern, and it is generally required that a newly approved antimicrobial be monitored for a minimum number of years as part of a post-marketing plan. JMI Laboratories can provide those services for long-term regulatory commitments.
Dissemination of Data
We understand it is important that the in vitro effectiveness of the drug and its potential utility per its approved indications be communicated to the scientific and health professionals' community. JMI Laboratories can provide medical communication services to support the in vitro testing data from its surveillance programs.
The JMI Laboratories Difference
With services that include antimicrobial drug development studies, molecular studies, clinical trial support, medical writing and a vast library of publications, our team of experts can perform the studies necessary for your development program. Further, our experienced professionals will design a program to meet your scientific needs and fiscal requirements utilizing our existing surveillance platform or in a customized format. The key factor here is that you are the driver of the design and JMI Laboratories will provides the options for your consideration.
Our data has been included in numerous antimicrobial regulatory drug applications including many recently approved drugs, thus you can be assured that JMI Laboratories has the experience and will develop the program to complement the other data in your regulatory submission.

With more than 30,000 unique isolates sent to our labs annually from hospitals that partake in our studies around the world, JMI Laboratories offers a comprehensive base for antimicrobial development studies. Contributing to the SENTRY Program gives hospitals an opportunity to make a far-reaching difference in the pharmaceutical industry for patients around the world.