SENTRY Antimicrobial Surveillance Program
Visit our new SENTRY Public Dataset at sentry-mvp.jmilabs.com
The SENTRY Antimicrobial Surveillance Program is JMI Laboratories flagship surveillance study that has been ongoing since its establishment in 1997.  It is one of the longest running antimicrobial surveillance programs that monitors worldwide pathogens and the changes in resistance patterns over time through centralized testing and utilizing reference susceptibility methods.
The SENTRY platform focuses on recruiting medical centers and hospital sites to participate each calendar in submitting organisms through a prevalence based approach across a number of different types of infections.  The current study design collects clinical isolates under the following objectives: bloodstream, skin and soft tissue, respiratory, urinary tract, pathogens from patients hospitalized with pneumonia, intra-abdominal and invasive fungal infections.
The prevalence based-approach requirement is critically important as we attempt to measure accurate resistance patterns as well as changes in those patterns over time. Thus, for example, representative MRSA or ESBL rates can be captured fairly consistently across many geographical regions. This is also important for a number of other reasons, such as the ability to guide local therapy, alert the scientific community of potential growing threats and to help steer antimicrobial research and development.  Finally, many peer-reviewed publications desire this type of information included to support the presented work.
How can hospitals participate?
Our emphasis on recruitment is geography based, with the USA and Europe as the regions for which we recruit the most sites for participation.  However, there still is an emphasis to recruit globally and we have a significant presence in Latin America, parts of Asia and the Western Pacific.  The map below identifies the countries for which we have sites that have participated over the last three years.  In total, there are over 200 sites worldwide that participate annually.  Interested in participating as a site (click here to inquire more about how you can participate in the SENTRY Program).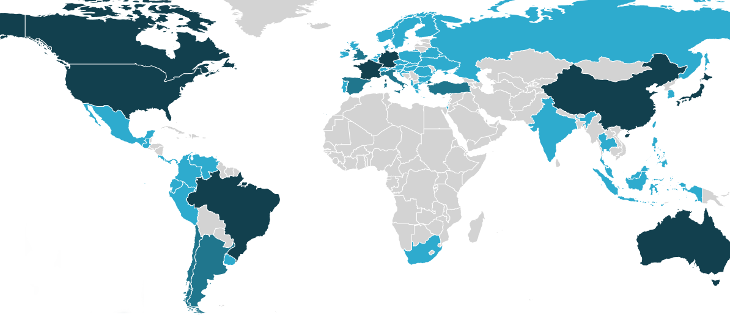 Once the isolates are received at our laboratories, the identifications are confirmed and minimum inhibition concentration susceptibility testing is performed against dozens of antimicrobial drugs, including newer compounds as well as existing and approved marketed agents.  Isolates with unique or unusual phenotypes may be further screened within the molecular department for resistant genes. Basic patient and infection demographic information, molecular and phenotypic categorizations, and all susceptibility test results are cataloged in our proprietary Microbiology Visualization Platform (MVP).  This powerful tool can be made available to clients and/or participating medical sites to provide self-service access to the data for multiple purposes including support of new and supplemental drug applications, discussions with hospital infectious disease professionals, and general marketplace research.
How can your drug be incorporated in the program?
New compounds and other agents can easily be integrated into the SENTRY platform by establishing agreements at the beginning of the calendar year and transferring the client compound to be incorporated into the panel production process.  JMI Laboratories bears the costs of the entire program and each client only contracts for their desired surveillance data, such as geography or specific types of infections or pathogens, resulting in lower costs due to a shared platform approach than compared to supporting a solely funded branded surveillance program.
What if you have unique surveillance requirements?
Clients that would like a more tailored surveillance program, such as wanting a unique set of sites to be recruited or to make sure that certain organisms that are within their approved label of indicated species and are not expected to be collected in sufficient numbers within the SENTRY objectives can still participate in SENTRY by employing a hybrid-approach.  JMI Laboratories will take your preferred study parameters and incorporate those into special objectives into SENTRY to achieve the outcome of essentially supporting a unique and branded program, but still able to leverage SENTRY for its established support network of worldwide centers, prevalence collection methods and information, all at lower costs then employing a branded strategy approach.
The JMI Laboratories Difference
The choice of a surveillance partner is an important decision and JMI Laboratories and the SENTRY Program can offer an established, consistent and reliable program that has been ongoing since 1997.